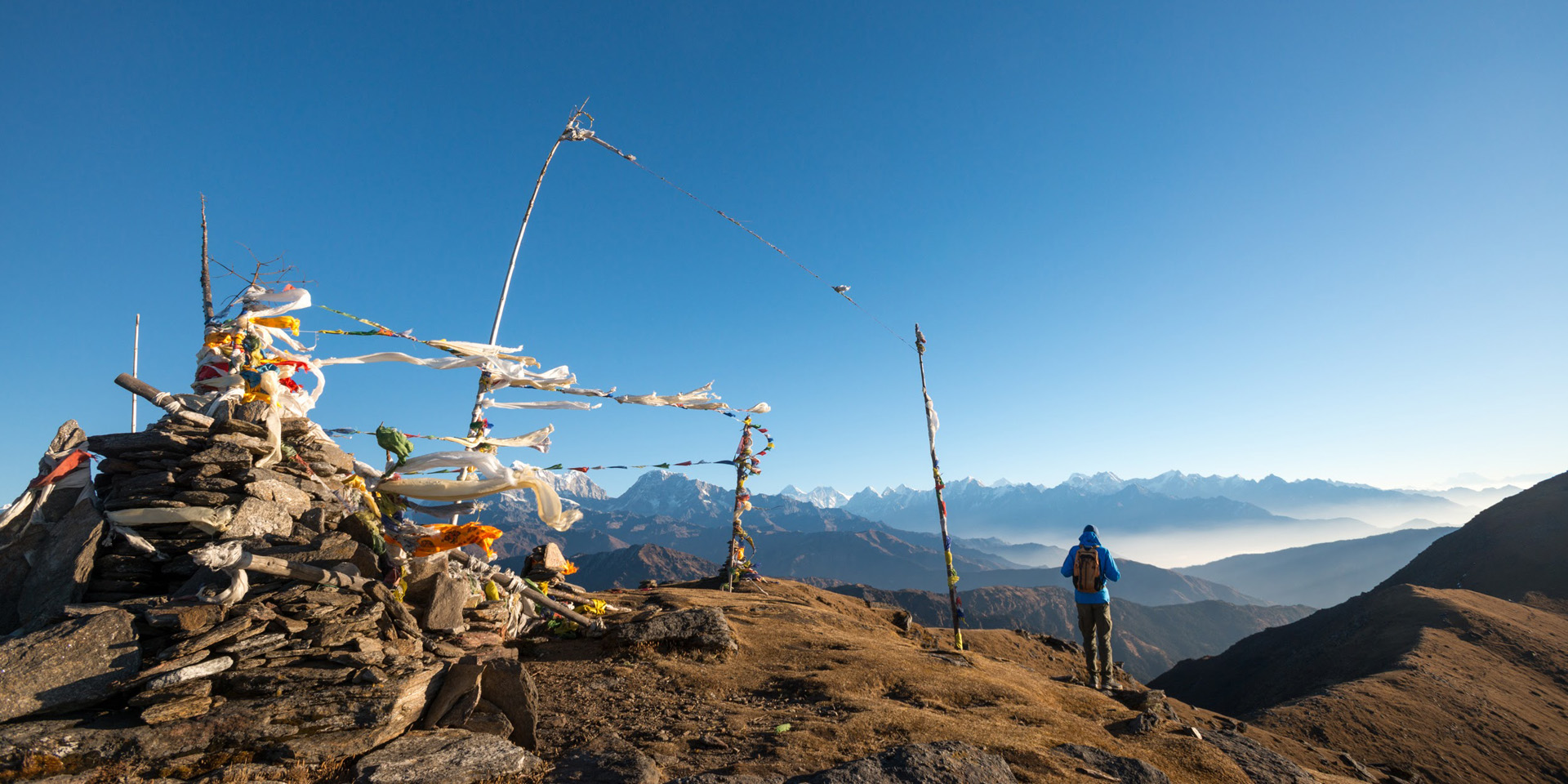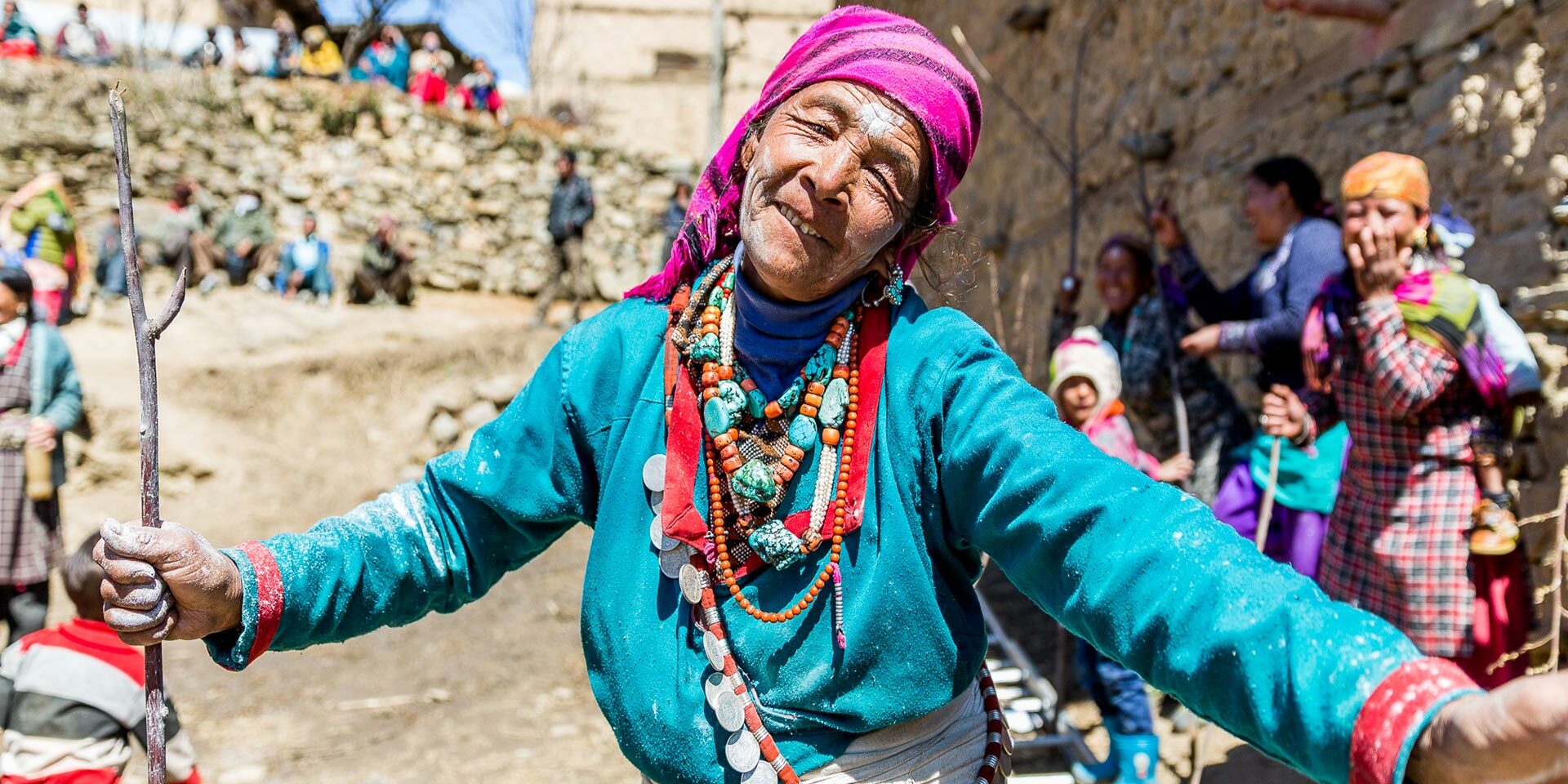 Nepal
1. FACTFILE
Official Name: Federal Democratic Republic of Nepal
Capital: Kathmandu
Population: Approx 29 million
Languages: Nepali is the National language but there are thought to be 20 language groups and many more dialects
Main Religions: 81% Hindu, 9% Buddhist, 4% Muslim, 6% other (Kirat, Christianity, Bon po, Shaman, other)
Time Zone: 5 hours 45 ahead of Greenwich Mean Time (+5:45 GMT). Daylight Saving Time is not observed.
Voltage Requirements: 220 Volts. Sockets are of the European two-pronged round pin variety. Supply is erratic and power cuts are common – even in the cities. There can be up to 16 hours per day without power in Kathmandu!
Telephone Codes: 977, country code for Nepal; 1, city code for Kathmandu
2. PREPARING TO GO
Vaccinations
As with all travel, it's a good idea to visit your doctor or a travel clinic 6-8 weeks before departure to check whether you require any vaccinations. The following website gives a brief summary of immunisations recommended for travel in Nepal: http://ciwec-clinic.com/health-information/immunizations-recommended-for-travel-in-nepal . It's worth noting that Malaria pills are not recommended for Kathmandu, Pokhara or the trekking routes – it's too high and too cold for Mozzies.
Visas
All nationalities except Indians require a visa for Nepal. Tourists are allowed a total of 150 days per year in Nepal. Visas are obtainable from embassies abroad or on arrival at Kathmandu's airport, be prepared for long queues. Apply for your visa online up to 15 days in advance: https://nepaliport.immigration.gov.np/online
We recommend paying the correct amount in USD, however major currencies are accepted and there is an exchange counter available if you do not have one of the currencies accepted at the payment counter.
US $ 30 or equivalent foreign currency for Tourist Visa with Multiple Entry for 15 days.
US $ 50 or equivalent foreign currency for Tourist Visa with Multiple Entry for 30 days.
US $ 125 or equivalent foreign currency for Tourist Visa with Multiple Entry for 90 days.
US $ 25 for multiple- entry which is useful for going back and forth for Tibet & India.
Tourists with a passport from South Asian Association for Regional Cooperation (SAARC) nations aren't required to pay visa fees for the first 30 days.
You can extend your Nepal visa for up to 150 days at the Immigration Department in Kathmandu or Pokhara. It costs $30 for 15 days and $2 per day after that. Usually, the turn-around is the same day, and you'll need to submit your passport, extension fee, one photo, and the application extension form to complete the process.
Please note: regulations and costs for visas change frequently so it's advisable to check the current rules with your nearest Nepalese embassy or consulate. For information on the location of your nearest embassy or consulate we recommend the following website: https://immigration.gov.np/page/visa-fee-and-documents
Permits
In some areas of Nepal, you require a trekking permit and all treks require a registration. If you visit a National Park then you need to pay National Park entrance fees. We can make all these arrangements for you and include them in the price of your tour. We will need a copy of your passport for any flight bookings and will need passport photos for permits and registration. Please be prepared to give these to us upon request.
Money matters
Local Currency
Nepal's monetary unit is the Nepali Rupee (NPR), which are found in denominations of 1000, 500, 100, 50, 20,10,5, 2 and 1. Approximate exchange rates (of course they fluctuate) are as follows:
1 Pound Sterling = 150 NPR
1 US Dollar = 120 NPR
1 Euro = 129 NPR
Check current exchange rates with this handy currency converter: http://www.xe.net/ucc/
You do not have to declare the amount of foreign or local currency you are bringing into the country, if it is less than US$5000, nor are you limited to the amount you wish to bring in. Indian Rupees (INR) are widely accepted in Nepal (with the exception of 500 and 1000 INR notes) even though in theory it is illegal to export them from India. The rate is set at 100 INR = 160 NPR.
Changing Money, Credit Cards & ATM's
Changing money is a quick and simple process in major tourist centers (Kathmandu and Pokhara) where there are many banks, exchange offices, and hotels. It is easy to get away from carrying cash and travelers cheques, as ATM's are widely available in Kathmandu and Pokhara and credit cards are often accepted in larger shops and more expensive hotels and restaurants. The ATMs are the easiest way to get your money and provide the best rates, as you withdraw directly from the bank, rather than going through an exchange agent.
In more remote areas, particularly while trekking, exchange/ATM facilities will not be available so you must make sure you have enough currency to last the duration of your trek. Your hosts will be able to advise you of the best places to change money and how much you should budget during treks.
Credit cards like American Express, Master and Visa are widely accepted at major hotels, shops and restaurants with a bank charge added onto the total. Remember to keep you Foreign Exchange Encashment Receipt while making foreign exchange payments or transferring foreign currency into Nepalese rupees.
Leftover Nepal Rupees can only be exchanged back on the production of your original encashment receipt. It is not possible to change back more than is shown on your encashment receipt.
A Word of Advice
Take along a little bit more money than you think you will actually need, just in case – you don't have to spend it! Remember, few insurance policies will provide you with instant cash in an emergency and you cannot count on borrowing money from fellow travelers.
Working out your Budget
Here is some general information about things you'll need to consider when budgeting for your holiday.
Entrance Fees
Although many of our tours include entrance fees to all sites specified in your itinerary there are additional sights that you may like to visit. On average entrance fees are not more than US$1-2, although a handful of sites cost a few dollars more than this. The historic towns of Bhaktapur and Patan levy a charge on tourists of US$15 and US$11 respectively to help towards heritage conservation. Likewise entry to Kathmandu's Durbar Square is subject to a US$10 fee (once purchased, your ticket is valid for 7 days and can be extended by visiting the Durbar Square site office). Three of the most popular temples in the Kathmandu Valley; Boudhanath Stupa, Pashupatinath Temple, and the Swayambhunath Temple cost approximately US $4, US $10, and the US $2 each.
Optional Excursions & Activities
All of our itineraries include some free time, the amount of which usually depends on the style of tour you are traveling on. If you wish to take optional excursions your tour leader will be able to advise you of the possibilities in each area. A very popular excursion is the Everest Sightseeing Flight which takes about 1 hour to fly to Mt Everest and back along the incredible Himalayan Range.
Meals
Your trip itinerary will clearly indicate which meals are included in the tour price; while camping on our tours all meals are included in the tour price. Approximate costs for meals and snacks not included are shown below:
Simple snack US$1-2
Light meal US$2-5
Fancy restaurant US$7-10
Drinks
Tea and coffee are always provided with breakfast on our tours. All other drinks are at your own expense unless specified in the itinerary. Approximate costs for drinks bought in a shop in the street are shown below.
Note: Prices in restaurants and hotels can be as much as double those specified.
1L of water US$0.30
300ml bottle of soft drink US$0.50
650ml bottle of beer US$4
Please Note: When trekking, prices rise (sometimes double or triple) with altitude. You should not drink the local tap water in Nepal however bottled water, carbonated soft drinks, and fruit juices are widely available throughout the country. To save on the packaged products (although glass soft drink bottles are recycled, or rather, reused) you can drink boiled water (we boil and filter ours in Kathmandu) or treat it with iodine and a lot of restaurants and hotels will have big drinking water bottles where you may be able to fill up your water bottle. Safe drinking water is available on the treks.
For a guide to the type of food, you will find in Nepal see the general information section of this dossier.
What to Bring
You will receive a gear list once you have booked your tour which contains a comprehensive list of items that you should consider bringing with you. There are also certain items of specific equipment (e.g. sleeping bags, down jackets) that you will need on some tours and not on others. So once you have booked, please check with us with regard to any special items for your tour.
Clothing
As a general guideline, clothing for both trekking and non-trekking trips should be lightweight, loose-fitting, hard-wearing, and easily washed. In the hotter summer months, cotton clothing is much more comfortable than man-made materials like nylon. In the winter months (Dec-Feb) Nepal can get extremely cold (particularly in the mountains) so you should bring plenty of warm clothing. Make sure you allow for weather changes (even in the lowlands) and remember that even when day-time temperatures are quite high, night-time and early morning temperatures can be extremely cold. You will generally find it is better to have several thin layers rather than one thick layer as it gives you more flexibility and warmth. Fleece tops are invaluable and can double as a pillow.
Please bear in mind that Nepal has conservative attitudes towards dress, particularly in remote and mountain areas. Women, and also to certain extent men, will find that the way they dress will often determine the degree of respect they receive from both men and women. We ask that you bring lots of clothing that covers shoulders and knees (preferably most of your leg!) and also more than one outfit which covers your legs to ankles and your arms past the elbows – just forget that you have legs and shoulders because, basically, no-one wants to see them! A sarong is an invaluable item to carry as it can be used to instantly cover any exposed areas. Ladies, you will be surprised to know that trekking in a skirt (the long flowing cotton variety) is actually quite practical! Or you can just wear comfortable long pants and loose t-shirts and cause no offense.
All sorts of casual clothing and good quality trekking gear are available in Kathmandu and Pokhara now – there is a huge amount of cheap and appropriate clothing available, as well as more expensive and good quality items. (and even the big brand names like Mountain Hardware have their own stores here now and there is a fantastic locally owned brand called Sherpa Outdoor Gear selling their world-class Nepali made gear!) so you can contribute to the local economy by buying most of the gear you need right here! Please feel free to check any gear requirements with us before you leave home.
Trekking Clothing
Clothing for trekking depends on the altitude your trek will reach and the time of year you are traveling, so ask us for details specific to your trip. On the trek, it is vitally important that you make sure your feet are comfortable. Sturdy trainers are suitable for warm weather trekking and hiking in the foothills although they do lack ankle support. For all other treks, (well worn in) hiking boots and cotton or woolen socks are essential.
For all camping treks and especially where we visit remote Nepali villages we request you wear trousers that are well below knee length and shirts that cover your shoulders, out of respect for local culture & values.
Kathmandu is well known for its copies of trekking gear, but there are also some good quality gear stores here now, some are the big brand stores selling their own gear (eg North Face, selling 'last year's' stock at good prices) and a few sell their own Nepali brands which are good quality and much cheaper! You can even buy thermals and the smart wool trekking shirts in Kathmandu these days! So you can contribute to the local economy by buying most of the gear you need right here! Please feel free to check any gear requirements with us before you leave home.
Other Useful Equipment
Here are some items we highly recommend you bring on your adventure:
A daypack, a head-torch with spare batteries, spare shoe/boot laces, water bottles (that can take hot water as we boil it for you on the trail), energy bars for snacks, sunblock and lip balm are required. If you have favorite brands of these items then bring them along, if not, this is all available in Kathmandu now.
An emergency first aid kit is carried by the guide; however, we recommend you bring personal medical supplies, including rehydration salts, a blister kit, a supply of plasters, aspirins, sunscreen, any personal prescription medicines you need, etc.
Note: it is your responsibility to bring and to carry with you any personal medications you need along with a spare in case one package is lost.
For the more physical adventures and to help increase your comfort and performance you may wish to bring some of your favorite personal/specialist equipment such as bike helmet, biking shorts, biking gloves, hydration pack, and your favorite pair of walking/hiking shoes.
We find that the best sort of bag to take hiking is a strong duffel bag – hard shell suitcases are not what you want to take along with you! Many people bring a big backpack with them for all their gear, but if you don't already have one then don't buy one especially, just buy a duffel bag for all your gear and then a small backpack/daypack for the items you want with you on the trail.
Valuables
Generally, you do not need to take valuables, such as jewelry on this trip. Hotels do have safe deposit boxes for items like passports, travelers' cheques, and jewelry – but for safety's sake please leave your precious jewelry at home.
Insurance
Travel Insurance is compulsory on all Himalayan Trails trips and is a condition of booking with us. Having good travel insurance will not only guarantee you peace of mind while you travel with us but also provide you with complete cover for anything that may go wrong. Helicopter evacuation from the mountains can run into thousands and thousands of dollars and we don't want you to get landed with this unexpected and unwelcome bill! We recommend a comprehensive travel insurance policy that covers repatriation and evacuation in case of a medical emergency, cancellation, and curtailment as well as baggage and valuables. If your tour involves certain adventurous activities (i.e. trekking, white water rafting, etc) you will need to make sure your policy specifically covers these activities and check if they specify a maximum altitude to make sure you're covered. You may also need specific cover for expensive camera equipment.
Prepare Yourself
We can tailor tours to the requirements of each of our groups, so each tour will be different in terms of physical demand on your body. Generally, you don't have to be super-fit, and age in itself is no barrier to traveling the Himalayas! However, as with everything we do, the fitter you are the easier it is for your body to adapt to new conditions and being on the move. Before making your choice of trip, things to consider are the duration of your trip, it's grading, style of accommodation, and maximum and average altitude.
3. CULTURAL & ENVIRONMENTAL GUIDELINES
The Environment
Toilets
We use toilet tents at campsites and dig deep holes, so you can put your toilet paper in these. However, during the day when it's is not possible to use a toilet tent please make a hole for feces (urine does not need to be buried) and make sure you are not going near a water source. Please burn your toilet paper – do not bury it. If it is not possible to burn it, please take it back to the camp where it can be placed in the toilet tent and disposed of appropriately.
Wherever you use a western or squat style toilet be sure to place your toilet paper in the rubbish bin provided – do not flush it down the toilet as this may block the sewer system. You may also want to carry your own toilet paper as not all public toilets will supply it and many don't have soap either, so a gel cleaner/small soap is a good thing for your daypack.
Litter
While trekking, rafting, biking, etc it is important to take all rubbish and non-biodegradable items with you when we leave campsites. While the awareness about littering is not so strong in Nepal, we don't want to contribute to the problem, so please leave campsites even cleaner than you found them.
The Culture
Religion
Travelers should respect that religion is an inherent part of Nepali life. We encourage travelers to experience religious festivals and visit temples and shrines but ask that you follow religious rules such as removing your shoes and refraining from taking photographs at certain sites. At Hindu temples, non-Hindus are not usually permitted to enter the inner sanctum – look for signs or ask for advice. Please wear appropriate clothing at shrines/religious sites i.e. no legs or shoulders!
Etiquette & Customs
There are many simple rules of etiquette in Nepal, please see the "do's and don'ts" in the general information section. However, there are a couple of good points that are worth noting. The left hand is considered unclean, therefore you should remember to use your right hand for giving, receiving, shaking hands, or eating (if there is no cutlery). You should also note that public displays of affection (such as kissing and holding hands) are generally not acceptable even though you will see Nepali men holding hands (this is a sign of friendship or 'brotherliness' rather than sexuality). You should also avoid pointing the soles of your feet at anyone. This may seem unlikely to happen but you could inadvertently do this while laying down or sitting with your feet up. Also, avoid pointing and touching people with your feet. On the other hand, it is completely acceptable to pick your nose, hark, and spit!
Bargaining
Bargaining is a way of life in Nepal. In most shops, there is no fixed price so the shop keeper will start with a high price which you are then expected to bargain it down until you reach a fair price. Bargaining should always be relaxed and can be a lot of fun – you will find most shop owners are very friendly! Never, ever get angry or lose your temper when bargaining!
Photography
Photographing mountain landscapes is one thing, photographing people quite another, especially if those people are foreign and poor. Don't just stop, click the shutter and walk off, try and have some sort of personal contact with the person you wish to photograph and ask their permission first. Usually Nepalese respond warmly to smiles and friendly attitudes. Please be tactful, unobtrusive, and respectful and sensitive to the feelings and dignity of the person being photographed. It may be possible for us to arrange for copies of the photos you take to be sent to villages with future tours, but it is better not to make false promises to do this as it will only disappoint and cause future resentment.
4. ON TOUR
Safety
Most people find that Nepal is a very friendly and hospitable country and feel quite comfortable wandering around alone during the day. As with any place, your attitude determines how you are treated by locals, so be friendly and respectful and you will be treated the same way. As with any country you are not familiar with (and particularly in larger cities such as Kathmandu and Pokhara), it is recommended that you exercise more caution at night and generally take taxis rather than walk, especially if you are a lone female (it is not recommended for anyone to walk alone at night).
Although there have been conflicts in the past between the Maoists and the government this rarely infringed on major tourist routes/areas, although you will want to be aware of any strikes going on. These days general strikes that affect transport and shops are sometimes a problem, but nothing like it was a few years ago. We keep abreast of the current situation and ensure you are only traveling through areas that are safe. Currently the political situation is has been peaceful since 2006 so the old worries about political tension as good as it's been in more than a decade, creating the perfect time to travel are no longer a concern. Your government will run a travel advice website and you may like to check the situation there.
Timekeeping
It is worth remembering that Nepal's relaxed attitudes to time and efficiency ensure that schedules do not always function like clockwork, so please don't expect them to. With people's newfound sense of democracy has come an increase in the number of strikes to make different issues heard – we try to keep abreast of what is coming up, but a spontaneous strike can still take us by surprise and hold us up for a while. Keep your sense of humor handy and be patient should things not go as planned, you are witnessing the building of a new democracy. Nepali people are used to waiting and are often amused at the impatience of tourists – it's all part of the experience. We have had some people say that they have learned as much from their observations while waiting for an hour or so at a roadside strike, as from the rest of the trip!
Accommodation
Our main criterion for choosing hotels is cleanliness and accommodation can vary from a 5-star hotel in Kathmandu to a family-run guesthouse in a smaller town, to tea houses in the mountains or camping.
If you are traveling alone you will be allocated a room with another group member of the same sex gender (unless you have paid a single supplement). If you are traveling as a couple please note that we cannot guarantee the availability of double beds.
Please bear in mind that Nepal is a developing country and you may not find the comforts you are used to – this is more than made up for by the experiences you will have and the amazing things you will see and learn!
While Kathmandu has some truly world-class hotels and there are some very good hotels in Pokhara, once you get outside these bigger cities, you will find that the accommodation tends to be basic. You can certainly find charming, clean and comfortable, but please don't expect to find luxury accommodation once you're outside Kathmandu and Pokhara!
In the National Park areas, you will generally only find either rather soulless concrete buildings (although they can be VERY colorful!) or rustic safari-style lodges. The safari lodges are generally more expensive and they go to some effort to recreate a traditional feel but with some modern comforts. They borrow heavily from the style of the local Tharu people's mud houses with thatch roofing and painted motifs. The ones located inside the park are the most expensive as you pay for the location (the rents are high for the lodge owners to operate inside the park) and have the huge advantage of being away from the bustle of the tourist towns outside the park! It's good to remember that the climate in the Terai is damp, to say the least – it is very hard to find anywhere to stay that does not have a faint smell of damp!
In the hills, if you are not camping, you can stay in tea-houses where these are available. These will be people's houses that they have adjusted for homestays, or they will be built for the purpose of housing tourists. Generally, they will be basic and attached bathrooms and hot water should be considered a luxury, not a right. While many places in the better to do trekking areas now have solar hot water heaters (we suggest you shower at night, don't expect the water to still be hot in the morning!), if they don't have these then they either burn wood or kerosene to heat your water. This makes it either environmentally unsound (deforestation) or expensive (they have to carry all their supplies up the same trails you walk up!) – so, go easy on the lodge owners if they can't promise you hot water.
Guides
Our guides speak English but it is not their first language, so some pronunciation, grammar, and use of words will be a little bit different. This is well outweighed by the fact that they can tell you so much about the fascinating cultures and nature of the area, from the local perspective! We can also provide guides who speak other languages than English and can provide Western guides also for that extra special attention and insight from a different perspective.
Laundry
An inexpensive laundry service is available in most of the hotels we are using (especially in cities and sizable towns).
Tipping
In Kathmandu and Pokhara restaurants only, tip 10% (if a service charge is not already on the bill). For city sightseeing, it is nice to tip your guide if you had a great day and learned a lot. If you go trekking, tip your porters and guides well as they work very hard to ensure your safety and enjoyment. Some of our trips include tips kitty to take the hassle out of this sensitive issue for our guests – please ask for this if you would like us to handle it for you.
Local Food & Drink
Food
The national dish is dal-bhat. Dal is a lentil sauce, bhat is rice. The dish is in fact rarely as simple as this however as it invariably comes with a number of different side dishes, such as achar (pickle), curd (yogurt), and usually vegetable curries. Another common dish found on many menus is momos – Tibetan dumplings made with vegetables or meat.
You will be astonished by the huge variety of international dishes (such as Chinese, Thai, Japanese, Mexican, Italian, Middle Eastern) available in Kathmandu and Pokhara. Likewise, you will also often be able to find steak on the menu – although you will generally not be eating beef (except in some restaurants in Kathmandu where they import beef). Water buffalo (or buff as it is called!) is the usual substitute for beef and is actually quite tasty – if a little chewy.
Please be aware though that sanitation standard is not always as you'd expect and it's very easy to get very sick on appealing food. We will make restaurant recommendations and, if you are going out to the mountains, we urge you to do your experimenting after your trip, or you may not get to go. Outside Kathmandu and Pokhara there is a very limited choice of food, so (except for the unique Newari food of Kathmandu) it's often best to save eating heaps of local food until you're out of the big towns, where you won't get much else!
Those on camping tours will be amazed at the elaborate meals that your camp cook is able to produce from their very simple kitchen. Salads, fried chicken, pasta, vegetable curries, and even pizza and chocolate cakes!
Drinks
Tea is available everywhere. Hotels usually serve tea western style, i.e. with milk and sugar separately. You should definitely try Nepali tea at the tea house! It is hot, milky, sweet, and served in a small glass, almost always with a captivating smile!
Major international brands of soft drinks are readily available, as well as local brands and fresh fruit juice. A local drink found on every menu is Lassi, this is yogurt-based and can be salted, sweetened or flavored with a variety of fruits. Alcohol is widely available. Locally brewed beers are good, and many international brands (e.g. Carlsberg, Tuborg) are brewed in Nepal too. Local spirits are also available and some of them are very good, while some are pretty rough! Try change at your own risk: this home-brewed alcoholic beverage has been known to upset the stomach of many a trekker. Imported wines are available but can be expensive and the quality varies from bottle to bottle depending on the transport and storage method they have been subjected to.
Special Dietary Requirements
Vegetarians
Nepal is a fantastic place for vegetarians! Much of the cuisine is vegetarian and you will often find a much better (and tastier) selection of vegetarian options than meat dishes.
Food Allergies
If you have food allergies or preferences, please make them known to us before your arrival and we will do our best to ensure that your requirements are met!
Please note: Unfortunately we cannot guarantee that all special requirements can always be met.
Communications
Email
Internet cafes can now be found in most cities and sizable towns. Connection times can be slow although this does vary from place to place. The average cost for an hour varies between US$0.30 (Kathmandu) and US$1 (elsewhere).
Phone
The Nepali phone system is fairly good. Look out for shops/booths labeled with a yellow "PCO-STD-ISD" sign which can be found almost everywhere (except in remote areas). A 3-minute call (to the UK) will cost approx. US$10 from a hotel and approx. US$5 from a shop/booth. There is no such thing as international or prepaid phone cards in Nepal but there are lots of internet shops from which you can make internet calls.
Post
The postal service is fairly good and stamps are available everywhere. An overseas stamp will cost approx. US$0.25. Having said this, you can't always expect your postcard to make it home, especially if posted from remote areas and we'd recommend carrying rather than posting your purchases home.
Availability of Film
Camera film can be found in all cities and sizable towns but it is best to bring your supply from home to be sure of the quality. The same can be said for memory cards – available but best brought from home.
Local Transport
You'll probably find the best way to get around the center of Nepal's cities and towns are to walk. Even in Kathmandu, a walk from Thamel (the hotel district in the north) through the old city and Durbar Square down to where the city meets the river in the south will only take half an hour or so. For greater distances or when your legs get tired, taxis are almost always on hand and generally cost no more than a few dollars. In Kathmandu auto-rickshaws three-wheeled 'tempos' and cycle rickshaws are also available.
Cycle rickshaws (a three-wheeled cycle with a bench seat at the back) usually take 1-2 people (depending on how heavy you are) and are ideal for shorter journeys through the narrow streets of the old city. It may seem wrong that people struggle to cycle you around town for a few dollars but the drivers greatly depend on the income that you can provide them with by going for a little ride. Do bargain when taking rickshaws as it can be hard for locals to get a rickshaw ride in tourist season because tourists pay more than double the traditional fare, just ask in your hotel or your guide what you should pay.
In Nepal, taxi and auto-rickshaw meters are for show only (unless you insist on using the meter which is encouraged) and you will find yourself engaging in a bit of haggling with the driver to agree upon the fare you will pay. This can be fun, but it's a good idea to find out from the hotel staff approximately how much the fare should be for the journey you propose. Generally, you'll have to accept that you will pay a bit more than the Nepalese do. It's also a good idea to have changed as drivers will often let you haggle a reasonable price and then have no change!
Shopping
Popular items include 'tanka' (religious) paintings and Buddhist articles, such as prayer wheels and prayer flags. There are great clothes, jewelry, and craft items available and some really good Fair Trade shops opening up now. While it's officially forbidden to export precious stones, gold, or silver, customs officials don't worry about jewelry – you will see many beautiful jewelry items for sale in the bazaars and you will not be stopped from taking these as souvenirs out of the country. If you buy an antique or religious sculpture, check that you can get it out of the country, as some items (religious or cultural heritage) are not allowed out. There has been a busy trade over the years stripping temples etc, so this is an understandable precaution taken by the Nepali authorities.
Check with your country's quarantine regulations before buying a beautiful article of wood etc as you may have to leave it at the airport when you get home!
Other goods include bronze and copper items, shoulder bags, knives, wooden masks and statues, silk handbags, colorful sweaters and jackets, camping gear, bamboo flutes, carpets, paper-mâché masks, Nepalese caps, block prints on rice paper, Nepalese violins and woven cloth. For Western-style clothes, cameras, and other electronic equipment head for New Road, the busy street leading up to Kathmandu's Durbar Square. And remember, friendly bargaining is generally expected. You can get cheap tailor-made shirts, skirts, jackets, etc, but it's not a bad idea to check the fabric before you commission the job and the stitching before you pay.
You can get good trekking gear here, with great Nepali gear shops making their own brands (some don't even bargain with you, they're that good they can have set prices!) and there are now original western brands as well (eg North Face, selling last years stock, but at great prices). You can even get decent thermals and the smart wool shirts in Kathmandu these days.
In general, it's wise to carry, rather than mail, packages home, unless you courier them.
Shopping Hours: Sunday-Friday 10 am-7 pm. (Saturday is the 'weekend')
Banking Hours: Monday-Friday 9:30 am-3:30 pm.
5. TRAVEL TIPS
Do dress appropriately. Not only for the prevailing weather, but also not to cause offence. Please see the 'what to bring/clothing' section in this dossier.
Don't wear anything made of leather into a Hindu temple. Be sure to take off your shoes before entering a temple or someone's house. Be sure to cover your arms and legs in a temple as Nepal has some of the most important Hindu and Buddhist shrines anywhere!
Do walk around stupas clockwise, so that the outer walls are always on your right. If you encounter a stone wall covered with Tibetan inscriptions, do the same.
Do not step over other people's feet or any other part of their body. Don't sit with your feet pointing at someone, especially toward a monk or lama – both practices are considered insulting. If you touch someone with your foot make sure you say sorry as it's quite offensive.
Do not offer food to a Nepalese person after having tasted it yourself as it is then considered impure. Only offer food that has not been tasted or tried, or is still 'pure'.
Do not use your left hand for eating, handling food or shaking hands, as it's traditionally used when going to the toilet. For the same reason, always present or accept items with your right hand only.
Do be aware that cows are sacred in Nepal, as they are in India, and are allowed to wander about freely and are not eaten!
Do ask permission before taking photos in temples and of people and respect their right to say no. If you have a digital camera why not show the subject their photo – this way you can share and engage with them, after all why shouldn't they get to enjoy the photo too? By sharing the photo you get to share an experience, make a connection and the subject of your photo will not feel devalued.
Begging. We recommend that you don't give to children who ask for money or food. Although it is challenging and you may feel guilty if you don't, please remember that successful begging can lead to children ending up on the streets. For genuine streetkids, who are already on the street, it reduces the ability of refuge programs to get them OFF the street. Instead of becoming part of the problem we encourage you to find a trustworthy refuge or orphanage and support their efforts to provide these kids with a future.
Do carry some tissues/loo paper in your daypack or on long excursions from your base hotel. Many toilets, even the western style ones, don't have toilet paper. You will see the bucket of water and dipper which is the prevalent method! If you use toilet paper it's best to put it in the bin provided rather than flushing it down the toilet, as it will clog the plumbing; not nice!
Never lose your temper in public or when bargaining for a purchase. This is considered a serious embarrassment for both parties.
Do take along a flashlight (preferably a head torch), even if you're not planning to trek. Power outages are quite frequent in the Kathmandu Valley.
Do get a receipt of "in-authenticity" when purchasing an antique replica – otherwise, you will not be allowed to take it out of the country.
Please note: These tips are meant to help you have a great trip to Nepal, but don't get too worried if you forget – Nepali people generally are very appreciative if they see you trying to abide by the customs, and very forgiving if you get it wrong or forget. Similarly, it's good to remember that some things you see may offend or disgust you – eg animal sacrifices or spitting on the street – and be prepared to be as tolerant toward Nepali people as they are to you.
If you have any other questions or concerns about your visit to Nepal, please don't hesitate to get in touch with us! You can also find more information on the travel tips and FAQs sections of our website:
http://www.himalayan-trails.com/thing-to-know
6. GENERAL INFORMATION
Nepal Introduction
Nepal, a landlocked country, covers 147,181 sq km, making it roughly the size of the US state of Arkansas. There are few countries on Earth that can match its broad range of environments, from the world's deepest canyon and eight of the world's 10 highest mountains to low-lying steamy jungles and terraced valleys laced with ancient villages, remote temples, and wildlife preserves.
Geography of Nepal
The country can be divided into three different regions: the north, which is covered by the Himalaya mountain range that includes the world's tallest peak Mt. Everest, which rises to 8,848 m (29,000 ft); the central area, consisting of the relatively low Himalayan foothills which are home to the capital Kathmandu and a fascinating variety of cultural groups; and the south, which consists of vast plains and jungle and is home to most of the country's population.
Weather
If you're going to Nepal for trekking, there are two main seasons: October-December and February-April. This is because the majority of trekkers come to visit the popular areas of Annapurna and Everest and spring and autumn are the best times for these areas. Autumn is best when the air has been washed clean by summer monsoons and the passes haven't yet been snowed in. The weather is brisk but not too cold. In spring, the alpine passes are open again, but the air is hazy, and the views, while good, aren't the same as in autumn (if spring is the only time available, it's still worth going!).
If however you are more intrepid and want to explore the Nepal that lives off the beaten trail, then there is somewhere for you to trek in Nepal all year-round. In spring and autumn, you can trek basically anywhere; in the monsoon, you can trek in the rain shadow of the Himalayan Range; in winter you can have delightful trekking in the culturally rich mid-hills! If you're going to Chitwan National Park be aware that it can be very hot and humid for most of the year, although from December to March it's fantastic! The monsoons, which occur June-September, affect the whole country except for those areas in the rain shadow, and flooding is a strong possibility in the Chitwan region.
The following chart shows average daytime temperatures (in degrees Celsius);
Jan Feb Mar Apr May Jun Jul Aug Sep Oct Nov Dec
K  18   19   25    28    30   29   29  28   28   27   23    19
C  24   26   33    35    35   35   33   33  32   31    29    24
(K- Kathmandu, C- Chitwan)
Please note that temperatures do drop much lower at high altitudes.
Flora and fauna in Nepal
Nepal's splendid natural environment includes everything from the icy alpine landscape of the highest mountain in the world, to the serene mid-hills, to lush tropical jungles where elephants, rhinos and tigers still roam in their ancient forests.
The Himalayan region is one of the world's hotspots in terms of biodiversity. With just over 0.1% of the Earths land surface occurring in Nepal, it supports globally known 4.2% butterflies (635 spp), 2.2 % of freshwater fish species (185 spp), 1.1 % amphibians (43 spp.), 1.5% reptile (100 spp.), 8.5% of birds (860 spp.) and 4.2% mammals (181 spp).
A total of 5833 species of flowering plants and 4,216 species of non-flowering plants have been recorded so far in Nepal. 246 species of the total flowering plants and 248 species of non-flowering plants are reported to be endemic to this tiny country!
Home to an incredible 8.5% of the world's birds, Nepal is a little known but incredibly rich location for bird watching. To-date about 860 bird species have been recorded from Nepal in the last 150 years. The Koshi Tappu Nature Reserve, Shivapuri Nature Reserve, Chitwan National Park, Bardia National Park, and many more incredibly bird-rich sites wait for you to discover them.
Religions of Nepal
Hinduism and Buddhism constitute the two major religions of Nepal. A remarkable feature of this country is the religious tolerance and even blending that exists between these, the main religious communities. The exquisite medieval art & architecture of the Kathmandu Valley vividly reflect the artistic ingenuity and religious tradition of the people. In many places, you will see a Buddhist shrine or sacred symbols in a Hindu temple and vice versa. In the hills, you will often find a blurring between Hinduism, Buddhism, and the more ancient pagan religions of the hills. It's fascinating!
Hinduism
Roughly 85% of the population is Hindu, worshiping millions of gods and goddesses that make up the Hindu pantheon. Each god has His/Her own steed which is often seen kneeling faithfully at the feet of the deity or sometimes outside that god's temple. Symbolic objects are carried by the multiple hands of each deity which empowers them to perform great feats.
Buddhism
Sakyamuni Buddha is the founder of Buddhism who lived and taught in this part of the world during the sixth century BC after his birth at Lumbini in Southern Nepal. The great stupas of Swayambhunath and Boudhanath are among the oldest and most beautiful worship sites in the Kathmandu Valley. With almost 10% of Nepalese and all Tibetan refugees here following this religious path, the spinning of prayer wheels, prostrating pilgrims, collective chants and burning butter lamps are but some Buddhist practices encountered by visitors.
Festivals of Nepal
Nepal is a land of many festivals with a rich cultural heritage. More than 90% of Nepalese festivals have their origin in the religious practices of the many different ethnic groups that live here. Such is the diversity of these groups and there are so many festivals, that you can often see one happening and ask a local person what it is for and they can only tell you which cultural group has the festival but not what it is for.
This diversity can also be seen in the fact that the country has a range of calendars; including two solar calendars and three lunar ones making it difficult to predict many of the religious festival dates! The official Nepali calendar is 365 days but is 57 years ahead of the Gregorian calendar. Religious festivals follow the lunar calendar, while national festivals have fixed dates.
Some of the major festivals are:
February
Lhosar: Sherpas organize folk songs and dances on this occasion. These dances can be seen in Khumbu, Helambu, and other northern regions of Nepal and also at Boudhanath in Kathmandu.
Maha Shivaratri: or the Night of Lord Shiva is observed in February-March. It is celebrated in honor of Lord Shiva. A great religious fair takes place in the Pashupatinath Temple and thousands of people from all over Nepal and India flock the temple to worship Lord Shiva.
April
New Year's Day: The Nepalese New Year's Day usually falls during the month of April. The day is observed as a national holiday with people celebrating with great enthusiasm.
Ghodejatra: Known as the festival of horses this is one of the most exciting festivals of Kathmandu. Horse race and other sports take place at Tundikhel on this day. In other parts of the city various deities are carried shoulder-high on palanquin (khat) with the accompaniment of traditional music.
May
Buddha Jayanti: Celebrated on the full moon day, the Lord's Buddha's birth and enlightenment are applauded throughout the Valley with celebrations for Buddha Jayanti. Swayambhu and Bouddanath Stupas are prepared for the oncoming festivities. People reach the stupas before dawn, walk around them, and give offerings to the many Buddha images.
Bhoto Jatra: This is the biggest cultural event in the city of Patan. The wheeled chariot of a deity known as Red Machchhendranath is pulled through the city of Patan.
July
Dumji: Is celebrated in all Sherpa settlements with dancing being the main form of festivity.
Gaijatra (cow festival): It is a carnival that lasts eight days. Dancing, singing, comedy, and anything that causes mirth and laughter are its highlights.
August
Indrajatra: One of the most important festivals for the people of Kathmandu. The festival lasts for eight days with the chariot of Kumari, the Living Goddess, being taken out in procession through the main streets of Kathmandu. The festival is especially noted for the echoes of drums and dancing feet of the masked dancers every evening.
September
Dashain or Durga Puja: This is Nepal's most important and longest festival. For many Nepalese, Dashain is a season to dress and eat well and visit with loved ones. According to legend, the bloodthirsty Goddess Durga conquered evils on the Dashain day. A huge number of animal sacrifices take place during the festival in temples and in homes to please the Goddess Durga. The final day of the festival is known as `Tika'.
October-November
Tihar (Deepawali): is the year's most beautiful festival with people putting lights all over their houses and shops to lure 'Laxmi', the goddess of wealth. Tihar is celebrated for five days. Houses are illuminated at night and special sweets of different varieties are prepared for the festival. Newari New Year's Day falls on the fourth day of Tihar and is celebrated with great enthusiasm.
A Brief History of Nepal
Nepal's recorded history began with the Kiratis, who arrived in the 7th century BC from the east. Little is known about them, other than their deftness as sheep farmers and fondness for carrying long knives. It was during this period that Buddhism first came to the country; it is claimed that Buddha and his disciple Ananda visited the Kathmandu Valley and stayed for a time in Patan. By 200 AD, Buddhism had waned and was replaced by Hinduism, brought by the Licchavis, who invaded northern India and overthrew the last Kirati king. The Hindu Licchavis also introduced the caste system (which still continues today) and ushered in a classical age of Nepalese art and architecture.
By 879, the Licchavi era had petered out and was succeeded by the Thakuri dynasty. A grim period of instability and invasion often referred to as the 'Dark Ages' followed, but Kathmandu Valley's strategic location ensured the kingdom's survival and growth. Several centuries later the Thakuri king, Arideva, founded the Malla Dynasty, kick-starting another renaissance of Nepali culture. Despite earthquakes, the odd invasion and feuding between the independent city-states of Kathmandu, Patan, and Bhaktapur, the dynasty flourished, reaching its zenith in the 15th century under Yaksha Malla. The 14th century Malla ruler Jayasthiti Malla is credited with the 'Sanskritisation' of the unique Newar society of the Kathmandu Valley, ie organising the Newar community into a form of the caste system, interesting because some Newars are Buddhist, some are Hindu and many follow a blend of both religions!
Nepal, as we know it now, was 'unified' when Prithvi Naryan Shah of Gorkha launched a campaign to conquer the Kathmandu Valley and gain the wealth of the Malla Kings. In 1768, after 27 years of fighting, he triumphed and moved the capital to Kathmandu. From this new base, the kingdom's power expanded, borne by a seemingly unstoppable army, until progress was halted in 1792 by a brief and chastening war with Tibet. Further hostilities followed in 1814, this time with the British over a territorial dispute. The Nepalese were eventually forced to call it quits and signed the 1816 Sugauli Treaty, which surrendered Sikkim and most of the Terai (some of the lands was eventually restored in return for Nepalese help in quelling the Indian Mutiny of 1857), established Nepal's present eastern and western boundaries, and installed a British 'resident' in the country. This period of fighting also firmly established the reputation of the famed Ghurkha soldiers. The income earned by these soldiers is today an important part of Nepal's economy as they serve all over the globe.
The Shah dynasty continued in power during the first half of the 19th century until the grisly Kot Massacre of 1846. Taking advantage of the intrigue and assassinations that had plagued the ruling family, Jung Bahadur seized control by butchering several hundred of the most important men while they assembled in the Kot courtyard. He took the more prestigious title Rana, proclaimed himself prime minister for life, and later made the office hereditary. For the next century, the Ranas and their offspring built many luxurious palaces after the Colonial style that still dot the landscape while banning education and ensuring that the remainder of the population eked out a living in medieval conditions.
The Rana's regime came to an end soon after WWII. In 1948 the British withdrew from India and with them went Rana's chief support. Around the same time, a host of insurrectional movements bent on reshaping the country's polity emerged. Sporadic fighting spilled onto the streets and the Ranas, at the behest of India, reluctantly agreed to negotiations. King Tribhuvan was anointed ruler in 1951 and struck up a government comprised of Ranas and members of the newly formed Nepali Congress Party. But the compromise was short-lived. After toying with democratic elections – and feeling none too pleased by the result, King Mahendra (Tribhuvan's son and successor) decided that a partyless 'panchayat' system would be more appropriate for Nepal. The king selected the prime minister, cabinet and appointed a large proportion of the national assembly, which duly rubber-stamped his policies. Power, of course, remained with only one party – the King.
Cronyism, corruption, and the creaming-off of lucrative foreign aid into royal coffers continued until 1989. The Nepalese, fed up with years of hardship and suffering under a crippling trade embargo imposed by the Indians, rose up in popular protest called the Jana Andolan or 'People's Movement'. In the ensuing months, detention, torture and violent clashes left hundreds of people dead. It all proved too much for King Birendra, leader since 1972. He dissolved his cabinet, legalised political parties and invited the opposition to form an interim government. The panchayat system was finally laid to rest. The changeover to democracy proceeded in an orderly, and leisurely fashion, and in May 1991 the Nepali Congress Party and the Communist Party of Nepal shared most of the votes. Since then Nepal has discovered that establishing a workable democratic system is an enormously difficult task. The situation has been further exacerbated by a wafer-thin economy, massive unemployment, illiteracy and an ethnically and religiously fragmented population that continues to grow at an alarming rate.
The fractured political landscape in Nepal was torn apart in June 2001 with the massacre of most of the royal family, including the much loved King Birendra, by Crown Prince Dipendra. Civil strife erupted again in Kathmandu with a curfew imposed to quell street violence. Prince Gyanendra, the brother of King Birendra, ascended to the throne and had to face many challenges, in particular the Maoist rebellion against the government which came out in force from the underground in 1996. Numerous peace talks and ceasefires failed to hold.
Nepal's bumpy trek into democracy continued when in 2002 (and again in 2003) Gyanendra dissolved the government and appointed his own cabinet. The country has seen more than a dozen governments since 1991.
In May 2006 Nepal's political landscape again changed dramatically with King Gyanendra surrendering absolute power, reinstating parliament, and agreeing to the writing of a new constitution. This allowed a ceasefire agreement to be reached with the Maoists and for the first time, peace talks and agreements actually held, albeit somewhat shakily. For the first time in a long time, Nepal was calm and seemed to be on the road to real stability and recovery.
Following repeated rounds of talks with various levels of success and with elections put off, again and again, Nepal finally had its first election since 1999 in May 2008, when the Maoist rebels won the majority of the votes in what independent observers called a fair election. While the fairness of the election will remain doubtful, the result was that the Maoists continued their disarmament became part of the political system.
A joint Constitutional Assembly formed from the major parties is charged with rewriting the constitution before the next elections can be held. The former Maoist leaders "Prachanda" and Dr. Baburam Bhattarai became the Prime Minister and Finance Minister respectively, with other posts made up of former Maoists and the other major parties. In May 2009 the Prime Minister resigned and the Maoists went into opposition as the United Marxist-Leninist Party headman took up the post of Prime Minister. The parties are still working towards the New Constitution.
There is, of course, a lot of cynicism amongst Nepali people about their political system and current situation and the new democracy is being exercised with occasional demonstrations and strikes. There is also however the possibility of hope, generally summed up by the idea that at least the country isn't in war anymore and we'll see what happens next. This is the opportunity for Nepali people to get on with their lives now that there is no longer civil war and try to rebuild their lives.
7. USEFUL PHRASES IN NEPALI
Hello – Namaste (Nam-mas-tay)
Goodbye – Namaste
How are you? – Tapaailai kasto chha
I'm fine thanks – Sanchaicha
Please – Dinuhos or just dinus
Thank you – Dhanyabad
Yes – Chhaa
No – Chhaina
Excuse me – Hajur
How much? – Kati?
Nepali Numbers
1 – ek
2 – dui
3 – teen
4 – char
5 – panch
6 – chha
7 – saat
8 – aath
9 – nau
10 – das
11 – egyara
12 – bara
13 – tera
20 – bis
30 – tis
40 – chalis
50 – pachas
100 – sau
1000 – hazar
8. FURTHER READING ABOUT NEPAL
The market is saturated with books on Nepal. Good general books include Peter Matthiessen's "The Snow Leopard", a beautifully written account of the author's pilgrimage to Dolpa to track the elusive cat; and Peter Somerville-Large's engagingly dotty "To the Navel of the World", which chronicles his adventures through Nepal's uncharted lands. Try also Pico Iyer's '"Video Night in Kathmandu", a collection of essays which has a chapter on the collision between Nepalese tradition and Western culture.
Recent histories are limited but "Fatalism & Development – Nepal's Struggle for Modernisation" by Nepalese anthropologist Dor Bahadur Bista is a good place to start. There are more up-to-date books on the country's natural history, including K K Guring's "The Heart of the Jungle", George Schaller's "Stones of Silence – Journeys in the Himalaya" and Robert Fleming Sr et al's "Birds of Nepal".
"The Boy From Siklis" by Manjushree Thapa is a great read, which outlines much about the history of conservation in Nepal and the creation of the Annapurna Conservation Area Program. This was a huge milestone for community based conservation and had a massive impact in the trekking world – great to read if you're heading to this area! Another of Manjushree Thapa's books, "A Tutor of History" is a great insight into life and culture of Nepal told via a political novel.
Good introductions to Nepalese art can be found in Lydia Aran's "The Art of Nepal" and Hallvard Kare Kuloy's "Tibetan Rugs", while facets of the country's culture are revealed in "People of Nepal" by Dor Bahadur Bista and "Festivals of Nepal "by Mary Andersen.
"The Rough Guide to Nepal" is a great travel book for general information on the country and the Lonely Planet's "Trekking in the Nepal Himalaya" is good if you want more detailed trekking information – although it does cover all of Nepal so might be a bit much to buy just for info on one trek!
Mountaineering breeds either writers or braggarts, judging by the number of publications written after every first ascent of a Himalayan peak. Often choosing which account to read can become one's own personal Everest, but H W Tilman's "Nepal Himalaya", Chris Bonington's "Annapurna South Face" and Mark Anderson's "On the Big Hill" should steady the nerves. Otherwise, try "The Ascent of Rum Doodle" by W E Bowman – a classic mountaineering tall story.
Our Tours in Nepal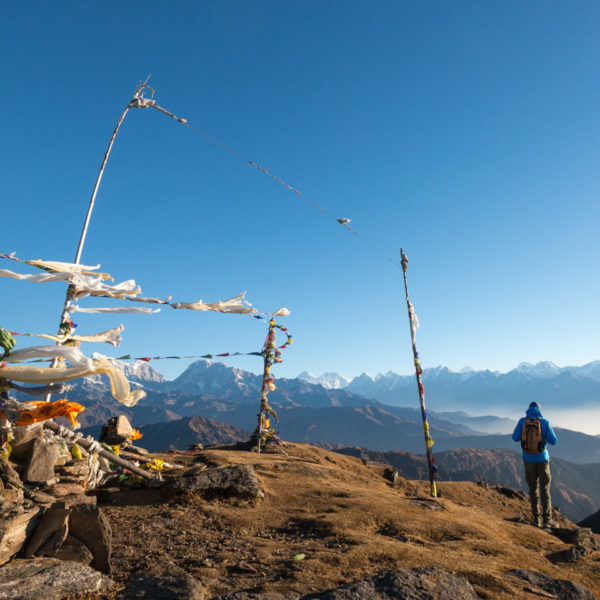 Moderate
This Trek is rated moderate because most of the days are not long, however the first couple of days will be challanging for most people as you are trekking at some altitude and the days are longer
starting from US$ 760
Google reviews
An amazing 28 day adventure from Himalayan Trails, encompassing fantastic, beautiful scenery, diverse cultures and the wonderful friendly people of Nepal. Our bespoke trek from sunrise at Pikey Peak, a visit to Choling monastery (magic) Lukla, on to Gokyo where we had perfect views of Everest from Gokyo Ri and the less visited 5th Lake. Then back to Kathmandu via Renjo La, Namche, and an exciting flight from Lukla .After the trek, on Mads recommendation we went to Bardia National Park staying at quirky Racy Shade Resort. We saw tiger, one horned Rhinos, and lots of other wildlife on safari and rafting down the Karnali river. What a way to recoup from 20 days treking! At the beginning and end of our journey we were immmersed in the culture and unique ancient architecture of the old cities of the Kathmandu valley. An absolutely brilliant holiday- the guides, porters, tea houses, hotels, transfers, just flowed in that beautiful Nepalese way. Thoroughly recommend Himalayan Trails.

COLIN PATEMAN


10.02.2020
Tailor Made
Looking for something you don't see yet? Get a trip that's customized just for you! (And actually, this is where our best work happens.)
Ask us about:
Off the beaten path trekking
Photography trips
Food and cooking
Cities of Nepal
Yoga and meditation trekking
Buddhism, Hinduism and other religions
Wellness and spas
Mountain biking
Tiger tracking and bird watching
Multi-sport (bike, hike, raft)
Adrenaline adventures (paraglide, bungee jump)
Weddings and honeymoons
Arts, crafts and textiles
Mountain vistas without trekking
And more!
We couldn't possibly fit all our trips, options and ideas on the website, so for a personalized deep-dive into our archives, get in touch here!