High passes, mountain-top views and remote villages sound like your idea of a vacation? An adventure trek might be just what you're looking for!
These treks are suited to anyone with a high level of fitness or seasoned trekkers.
It is imperative that you acclimatize to high altitude so if you're looking for a short trek, we have other good options for you. An adventure trek will take a little more time, usually allow 15 days, depending on the route you choose. We'll of course be here to help you choose and answer all your questions!
Not sure which trek would best suit you? Get in touch!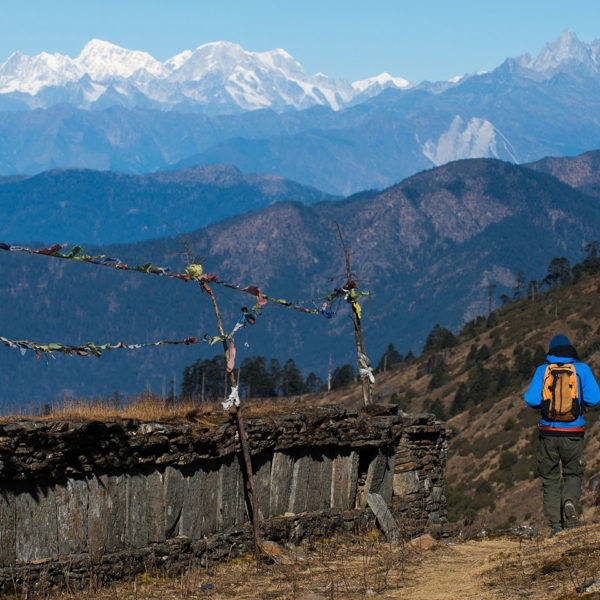 Moderate
This Trek is rated moderate because most of the days are not long, however the first couple of days will be challanging for most people as you are trekking at some altitude and the days are longer
Google reviews
An amazing 28 day adventure from Himalayan Trails, encompassing fantastic, beautiful scenery, diverse cultures and the wonderful friendly people of Nepal. Our bespoke trek from sunrise at Pikey Peak, a visit to Choling monastery (magic) Lukla, on to Gokyo where we had perfect views of Everest from Gokyo Ri and the less visited 5th Lake. Then back to Kathmandu via Renjo La, Namche, and an exciting flight from Lukla .After the trek, on Mads recommendation we went to Bardia National Park staying at quirky Racy Shade Resort. We saw tiger, one horned Rhinos, and lots of other wildlife on safari and rafting down the Karnali river. What a way to recoup from 20 days treking! At the beginning and end of our journey we were immmersed in the culture and unique ancient architecture of the old cities of the Kathmandu valley. An absolutely brilliant holiday- the guides, porters, tea houses, hotels, transfers, just flowed in that beautiful Nepalese way. Thoroughly recommend Himalayan Trails.

COLIN PATEMAN


10.02.2020
Kripa and her team at Himalayan Trails Treks & Expedition organized our trek of the Manaslu circuit down to the last detail. Everything from the airport pickup to our guide and porters was perfect. Our guide, Gelu, was in contact with Kripa almost every day, keeping her up to date on our progress. We would highly recommend Himalayan Trails and Kripa if you are planning a trek in the Himalayas.

Rick and Ami Bergstrom


01.05.2022
Tailor Made
Looking for something you don't see yet? Get a trip that's customized just for you! (And actually, this is where our best work happens.)
Ask us about:
Off the beaten path trekking
Photography trips
Food and cooking
Cities of Nepal
Yoga and meditation trekking
Buddhism, Hinduism and other religions
Wellness and spas
Mountain biking
Tiger tracking and bird watching
Multi-sport (bike, hike, raft)
Adrenaline adventures (paraglide, bungee jump)
Weddings and honeymoons
Arts, crafts and textiles
Mountain vistas without trekking
And more!
We couldn't possibly fit all our trips, options and ideas on the website, so for a personalized deep-dive into our archives, get in touch here!