Do you love to travel in a group but your friends aren't into the types of adventures that you are? Our Group Departures are for you! We keep our groups small so you know you're not missing out on the ability to ask questions or get to know your crew. Importantly, joining a small group allows you to travel sustainably!
As trekking off the beaten path is our favourite style, our treks are a little different to those you'll find on the big tour agency websites – get in touch to find out why we think these are the best treks you can do!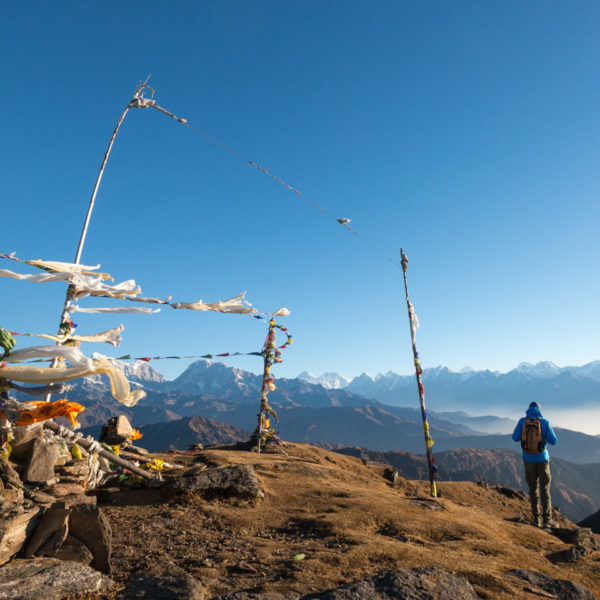 Moderate
This Trek is rated moderate because most of the days are not long, however the first couple of days will be challanging for most people as you are trekking at some altitude and the days are longer
starting from US$ 760
Google reviews
We travelled on an itinerary organised by Mads, Raj and Co in Nov/Dec 19. Our brief was a short trek and lots of culture. And culture we got! Our pickup was from Chitwan , and stayed a night in Bandipur. This was our introduction to the wonderful "hobbit houses" of Nepal, with its amazing woodwork. Then to a trek spread over 4 days , walking village to village, enjoying the terrace of a thousand of agriculture and the hospitality of locals. Then Lumbini, visiting Buddha's birthplace, Bandia to see hippos and tiger, and then to the personalised tour of the world heritage sites of the Kathmandu valley.
Every facet of the trip worked seamlessly, with drivers always ready, the guides expert, and the sites amazing. The standard of accommodation was always comfortable. In Kathmandu, the fabulous Hotel Manuslu, and a jazz club located around the corner. The hot shower at Sikles village, and the bottle of Gurka, after a 1600m ascent, was so welcome.
I recommend these guys to all.
And we are going back, ready for a trek through the flowering rhododendron forests and into the alpine areas

Peter Brookhouse


01.06.2020
Pikey Peak hiking and Nargakot Mountain biking were such unforgettable experiences. Stunning scenery and beautiful people. Thanks again guys 5 stars straight up

matt mcleod


12.02.2020
Highly recommended! Hiked to BC, followed by an epic 3-High-Passes trek. This was the third time I travelled with the Himalayan Trails team. Mads, the backoffice team, guides (Tendu) and porters always go above and beyond to make this it memorable experience! This time - despite adverse weather conditions - (we've lost 4 days at the beginning of the trip) they somehow managed to get us to the end without missing out on anything. I will be back, for sure!

Felix Haslimeier


07.02.2020
Tailor Made
Looking for something you don't see yet? Get a trip that's customized just for you! (And actually, this is where our best work happens.)
Ask us about:
Off the beaten path trekking
Photography trips
Food and cooking
Cities of Nepal
Yoga and meditation trekking
Buddhism, Hinduism and other religions
Wellness and spas
Mountain biking
Tiger tracking and bird watching
Multi-sport (bike, hike, raft)
Adrenaline adventures (paraglide, bungee jump)
Weddings and honeymoons
Arts, crafts and textiles
Mountain vistas without trekking
And more!
We couldn't possibly fit all our trips, options and ideas on the website, so for a personalized deep-dive into our archives, get in touch here!