Got some mountain experience and looking to take on a challenge? Maybe you've been hiking for a while now, you're in good shape and would like to add some climbing skills into your repertoire? A trekking peak sounds like the right fit!
Trekking peaks don't require you to come with any climbing experience, you'll get it along the way.
These trips require some serious acclimatization and we don't take that lightly. If time is tight, check out our short trek options, but if you're looking for a great experience at high altitude, check out our trekking peaks!
Enquire about a specific trip or get in touch with us to chat through some options to find the right trek for you!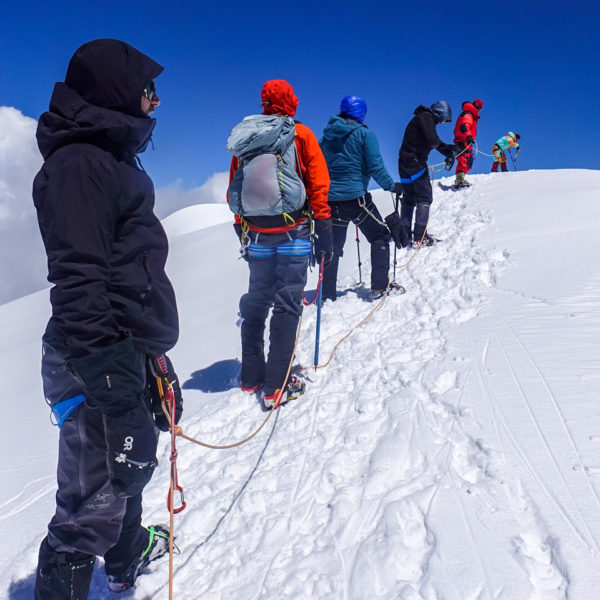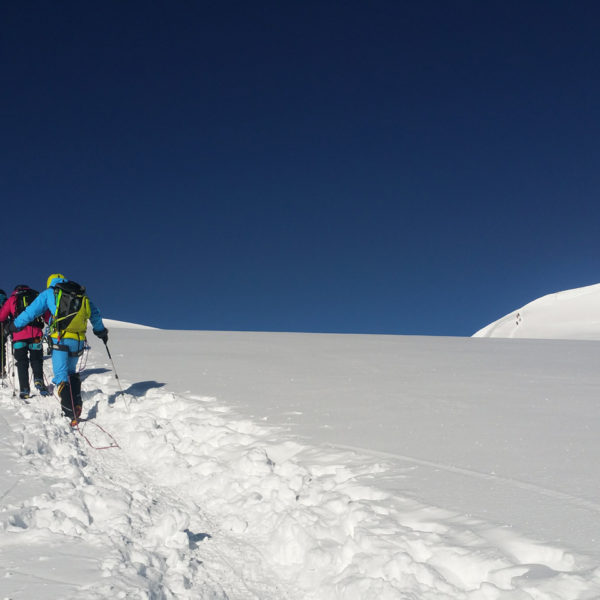 Google reviews
An amazing 28 day adventure from Himalayan Trails, encompassing fantastic, beautiful scenery, diverse cultures and the wonderful friendly people of Nepal. Our bespoke trek from sunrise at Pikey Peak, a visit to Choling monastery (magic) Lukla, on to Gokyo where we had perfect views of Everest from Gokyo Ri and the less visited 5th Lake. Then back to Kathmandu via Renjo La, Namche, and an exciting flight from Lukla .After the trek, on Mads recommendation we went to Bardia National Park staying at quirky Racy Shade Resort. We saw tiger, one horned Rhinos, and lots of other wildlife on safari and rafting down the Karnali river. What a way to recoup from 20 days treking! At the beginning and end of our journey we were immmersed in the culture and unique ancient architecture of the old cities of the Kathmandu valley. An absolutely brilliant holiday- the guides, porters, tea houses, hotels, transfers, just flowed in that beautiful Nepalese way. Thoroughly recommend Himalayan Trails.

COLIN PATEMAN


10.02.2020
Himaĺayan Trails was fantastic!! Seven of us went on a two week trek in the Manaslu Circuit and had a fantastic time. Erin coordinated the trip and was always quick to answer any of our questions stateside, as well as available to solve problems once we got into Nepal. She was very enthusiastic, upbeat, and understanding.

Our guide for the trek was Sonam who we all highly reccommend. Our safety was forefront to her and we always felt like she was looking out for us. We were a mostly all female group and it was super cool to have a female guide. Her group of four porters and the assistant guide far exceeded our expectations. Everyone had a great attitude and was always there to make our experience special. They did a few things that really stood out as beyond the call of duty. A few times the assistant guide or porter would run ahaead to our lunch spot, make tea, and run back to meet us on the trail with a thermos of tea. It was such a morale booster when we were tired to get some tea on the trail. One day one of the group wasnt feeling weel and the assistant guide carried her daypack the whole day. So kind!

The crew was also super fun! We sung, danced and laughed together and by the end we felt we had made new friends.

It is without reservation that i recommend Himalayan Trails, and if you want a fantastic guide, ask for Sonam!!

Susan Lamping


01.06.2020
A wonderful 11 day trip in Nepal was created for us by Kripa. She was excellent at listening to what we wanted and creating the perfect trip for us. I am not the strongest hiker, but I really wanted to experience small villages, treking and feeling close to the amazing mountains in Nepal. Our trek exceeded my expectations. Tendu was an amazing guide and our porter was wonderful. We learned so much and had such fun on our journey. They really pampered us. I am not used to people anticipating what we might like before we even thought of it. They also knew great photo views and were flexible enough to discuss a few possible changes that improved the trek for us! ( more orchids, less stairs maintaining stunning views etc..). Our time exploring the greater Kathmandu area was wonderful also. We stayed at delightful character properties ( a wonderful organic farm as well as in town properties near walkable ares to explore. ) Our guide, Pratikshya, was wonderful. In addition to teaching us about the sites we were seeing, she answered all our questions ( we ask ALOT of questions!) so that we gained so much insight into Nepal that wouldn't have been possible otherwise. Thank you so much for a trip of a lifetime!- Nancy

nancy koppl


01.06.2020
Tailor Made
Looking for something you don't see yet? Get a trip that's customized just for you! (And actually, this is where our best work happens.)
Ask us about:
Off the beaten path trekking
Photography trips
Food and cooking
Cities of Nepal
Yoga and meditation trekking
Buddhism, Hinduism and other religions
Wellness and spas
Mountain biking
Tiger tracking and bird watching
Multi-sport (bike, hike, raft)
Adrenaline adventures (paraglide, bungee jump)
Weddings and honeymoons
Arts, crafts and textiles
Mountain vistas without trekking
And more!
We couldn't possibly fit all our trips, options and ideas on the website, so for a personalized deep-dive into our archives, get in touch here!