Don't tell the trekking department, but this is where we have the most fun. Incredible single trail, everything from flowy forest trails, technical downhills and plenty of punchy ups!
Love Moab? Riding in the Himalayas is probably for you!
Beginners don't need to feel left out or intimidated by the extreme adventure. You'll love some cycle touring and day trips from the city that are a taste of the adventure and less of the extreme.
We don't have trail builders so the adventure of the Himalayas is in the organic trails that have been adapted, by people like us, into places we can ride. Stunning views, Himalayan hospitality and an awesome crew to show you the way. Sign up here.
Browse through our catalogue below and reach out when something hits the spot.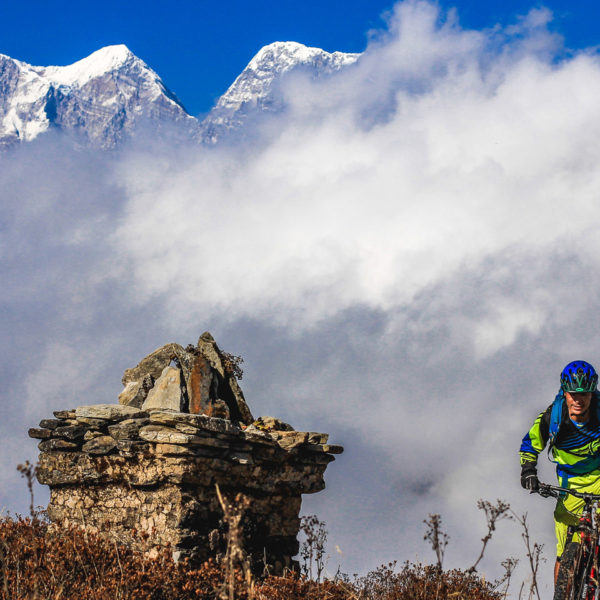 Strenuous
This ride is strenuous because you do have to climb a 4000m peak under your own steam. Some of the downhills are also very sustained, so fatiguing but well worth it! The flip side is you also have a fair few uplift rides...
Google reviews
From the outset Himalayan Trails were nothing but efficient helping us to plan exactly what we wanted from our trip. Amanda was quick to respond to any queries and provided lots of additional useful information to ensure we were well prepared in advance. The accommodation we had was full of character and in traditional Nepali style rather than anonymous chain hotels, every pick up or meeting happened on time, Amanda even managed to find us last minute accommodation when one of our guest houses had overbooked. Our trekking guide, Mindu, kept us safe, fed and watered and motivated when we needed it - his cheerful singing and whistling along with his infectious laugh kept us entertained for 4 days on the Muldai Trek. Our city guide, Subash, was always on hand to answer our endless questions and was great company painting pictures of the sights we visited with lots of stories. He soon joined in our teasing and banter (and gave as good as he got!). We had a fabulous trip but it was the people we met who made it so special.I struggled to say goodbye to both our guides but know we have made some new friends for life. We have fallen in love with Nepal and will definitely be back and will not hesitate to use Himalayan Trails again. Thank you everyone - you did an amazing job!

Cheryl Robins


01.06.2020
Tailor Made
Looking for something you don't see yet? Get a trip that's customized just for you! (And actually, this is where our best work happens.)
Ask us about:
Off the beaten path trekking
Photography trips
Food and cooking
Cities of Nepal
Yoga and meditation trekking
Buddhism, Hinduism and other religions
Wellness and spas
Mountain biking
Tiger tracking and bird watching
Multi-sport (bike, hike, raft)
Adrenaline adventures (paraglide, bungee jump)
Weddings and honeymoons
Arts, crafts and textiles
Mountain vistas without trekking
And more!
We couldn't possibly fit all our trips, options and ideas on the website, so for a personalized deep-dive into our archives, get in touch here!