Don't tell the trekking department, but this is where we have the most fun. Incredible single trail, everything from flowy forest trails, technical downhills and plenty of punchy ups!
Love Moab? Riding in the Himalayas is probably for you!
Beginners don't need to feel left out or intimidated by the extreme adventure. You'll love some cycle touring and day trips from the city that are a taste of the adventure and less of the extreme.
We don't have trail builders so the adventure of the Himalayas is in the organic trails that have been adapted, by people like us, into places we can ride. Stunning views, Himalayan hospitality and an awesome crew to show you the way. Sign up here.
Browse through our catalogue below and reach out when something hits the spot.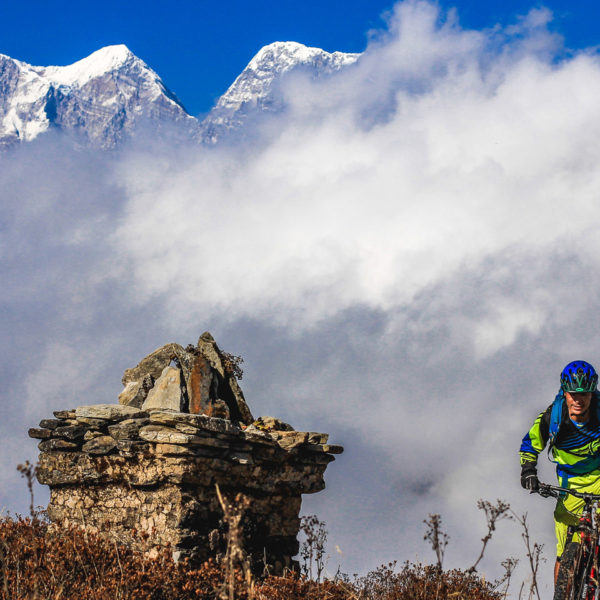 Strenuous
This ride is strenuous because you do have to climb a 4000m peak under your own steam. Some of the downhills are also very sustained, so fatiguing but well worth it! The flip side is you also have a fair few uplift rides...
Google reviews
Himaĺayan Trails was fantastic!! Seven of us went on a two week trek in the Manaslu Circuit and had a fantastic time. Erin coordinated the trip and was always quick to answer any of our questions stateside, as well as available to solve problems once we got into Nepal. She was very enthusiastic, upbeat, and understanding.

Our guide for the trek was Sonam who we all highly reccommend. Our safety was forefront to her and we always felt like she was looking out for us. We were a mostly all female group and it was super cool to have a female guide. Her group of four porters and the assistant guide far exceeded our expectations. Everyone had a great attitude and was always there to make our experience special. They did a few things that really stood out as beyond the call of duty. A few times the assistant guide or porter would run ahaead to our lunch spot, make tea, and run back to meet us on the trail with a thermos of tea. It was such a morale booster when we were tired to get some tea on the trail. One day one of the group wasnt feeling weel and the assistant guide carried her daypack the whole day. So kind!

The crew was also super fun! We sung, danced and laughed together and by the end we felt we had made new friends.

It is without reservation that i recommend Himalayan Trails, and if you want a fantastic guide, ask for Sonam!!

Susan Lamping


01.06.2020
Tailor Made
Looking for something you don't see yet? Get a trip that's customized just for you! (And actually, this is where our best work happens.)
Ask us about:
Off the beaten path trekking
Photography trips
Food and cooking
Cities of Nepal
Yoga and meditation trekking
Buddhism, Hinduism and other religions
Wellness and spas
Mountain biking
Tiger tracking and bird watching
Multi-sport (bike, hike, raft)
Adrenaline adventures (paraglide, bungee jump)
Weddings and honeymoons
Arts, crafts and textiles
Mountain vistas without trekking
And more!
We couldn't possibly fit all our trips, options and ideas on the website, so for a personalized deep-dive into our archives, get in touch here!